to assist small businesses closed as a result of the COVID-19 pandemic that intend to reopen upon the lifting of applicable government restrictions.  A total of $200,000 in Grant Funds will be provided through the City of Mentor's Community Development Block Grant Funds.
ELIGIBLE USES
$500 maximum reimbursement for rent or mortgage payments made on or after May 1, 2020.
GRANT CRITERIA
These criteria fall in line with HUD-requirements and the City's Community Development Block grant (CDBG) Comprehensive Plan.
Business must have less than 25 employees;
Must be a non-franchise, independently owned and operated;
Is doing business at a "bricks and mortar" facility in the city (home-based businesses not eligible);
Was closed and unable to conduct any business activity as a result of a required government order;
Was at no time in violation of that government order;
Is not in default or currently delinquent on any loan provided through the Mentor Economic Assistance Corporation;
Reopens for business; and remains open for no less a time period than the period which the payment requested for reimbursement was made.
APPLICATION PROCESS
Application is to be made through the City of Mentor Economic Development Department.
Applications will be reviewed, verified and funds distributed on a first-come, first-served basis with applications able to be submitted via email on Monday, May 4, 2020 at 9:00 a.m. or later. Applications made earlier than that time will not be accepted.
Applications must be complete, including documented evidence of rent or mortgage payments made on or after May 1, 2020 which may include, but not limited to, a paid invoice or cancelled check as well as a current occupancy or re occupancy permit.
 DOWNLOAD MENTOR SMALL BUSINESS RESTART PROGRAM APPLICATION (PDF)
Upon completion, submit to:
Department of Planning and Development
business@cityofmentor.com
Phone: 440-974-5740
Paycheck Protection Program (PPP) Tax Guidance
On April 30, the IRS issued Notice 2020-32, which disallows deductions for business expenses paid with the proceeds of a Paycheck Protection Program (PPP) loan that ends up being forgiven.
The PPP provides low-interest loans to businesses to weather the economic crisis caused by the COVID-19 virus. The portion of the loans used to pay payroll costs, mortgage interest, rent and utility costs can be forgiven if the business maintains its employee and compensation levels.
The IRS guidance effectively prevents a taxpayer from getting a deduction paid with the government's money. Congress, however, made clear in the law that the forgivable portion of the loan is not taxable income, and taking away the deduction for the business expenses has the same effect of taxing the income up front.
Congress could override the IRS by passing a law that explicitly allows the deductions.
Pandemic Unemployment Assistance (PUA) Federal Program
Ohioans who are unemployed as a result of the coronavirus (COVID-19) pandemic but who NO NOT qualify for regular unemployment benefits can begin pre-registering for Pandemic Unemployment Assistance (PUA), a new federal program that covers many more categories of workers. The pre-registration tool will allow individuals to get in line early and pre-register their account, so that as soon as the agency has the technical ability to process their claims in May, they can log in and complete their paperwork.
Those who were self-employed, worked part-time, or do not otherwise qualify for regular unemployment benefits and fit one of the categories below
Those unable to reach their place of employment because of quarantine
Those unable to reach their place of employment because they have been advised by a health care provider to self-quarantine
Those whose place of employment is closed because of COVID-19
Those who were scheduled to start work but who no longer have a job because of COVID-19
Those who have been diagnosed with COVID-19
Those with a household member who has been diagnosed with COVID-19
Those providing care to a family or household member with COVID-19
Those with primary caregiving responsibilities for children or others who are unable to attend school or another facility due to COVID-19
To pre-register for PUA benefits, Ohioans should visit unemployment.ohio.gov and click on "Get Started Now." The benefit amount will be similar to traditional unemployment benefits, plus an additional $600 per week through July 25.
COVID-19 Resources for Economic Support
The COVID-19 Pandemic has created a great strain on the nation's healthcare system, but it's not come without its economic difficulties as well. State leaders are working to ensure resources are readily available to Ohio businesses and workers to ensure we all weather this difficult time, remembering we are all in this together.
The links here will connect you with local, state and federal resources and funds for the following impacted categories:
Small businesses and non-profits: economic disaster loan program, bar and restaurant relief, daycare ratio updates and more.
Individuals and families: unemployment resources, health insurance relief, school meals and more.
Ohio small businesses and nonprofits are now eligible for several programs through the SBA.  This includes low-interest loans, loans that could be 100% forgiven if requirements are met and no payments for a year.  Apply online at SBA.gov/disaster, which is recommended, or call (800) 659-2955 to have an application mailed to you.  For assistance or questions you may also contact Kelly Conrad at conrad@cityofmentor.com.
Liquor buyback
The Ohio Department of Commerce will immediately begin offering a liquor buyback option to support bars and restaurants. This is intended to aid those establishments that have stocked up on high proof liquor, but now are facing closure to in-house patrons. Bars and restaurants can return unopened, high proof liquor products (obtained within the past 30 days) to the agency where they purchased the product. This opportunity is also extended to those with temporary (F2) permits for events scheduled between March 12 and April 6, 2020. Questions about this program should be directed to the Liquor Enterprise Service Center at 1-877-812-0013 or OhioLiquorInfo@Com.Ohio.gov.
Small Business Administration's (SBA) Economic Injury Disaster Loan Program
Ohio small businesses and nonprofits are now eligible to apply for up to a $2 million, low-interest loan through the SBA. Apply online at SBA.gov/disaster, which is recommended, or call (800) 659-2955 to have an application mailed to you.
Publicly-Funded Daycares
An executive order issued last week increased the number of children allowed to be supervised by child care staff, depending on the type of program and ages of the children. The order also increased from 10 to 20 the number of paid absent days for providers serving children in the Publicly Funded Child Care program, and it provides child care programs with 21 paid pandemic days if they must close their programs because of the pandemic.  Read the Executive Order: https://content.govdelivery.com/attachments/OHOOD/2020/03/13/file_attachments/1400790/Executive%20Order%202020-02D.pdf
The Ohio Department of Transportation (ODOT)
The Ohio Department of Transportation (ODOT) is modifying the process for haulers carrying heavy loads of essential goods. Generally, Ohio requires haulers with loads classified as "oversized" to seek advanced permission from ODOT before they are legally allowed to travel in the state. Haulers carrying these essential goods can download and print the permit at transportation.ohio.gov.
Ohio's Bureau of Workers' Compensation (BWC)
Ohio's Bureau of Workers' Compensation (BWC) system is the exclusive provider of workers' compensation insurance in Ohio and serves 249,000 public and private employers. To help businesses facing difficulties due to the COVID-19 pandemic, the Ohio BWC is announcing insurance premium installment payments. For more information, visit bwc.ohio.gov.
Grace Period for Health Insurance Premiums
All health insurers are required to provide the option of deferring premium payments, interest free, for up to 60 calendar days from each original premium due date. This means that employers can defer their premium payments up to two months, giving them some relief on costs, while keeping their employees insured.
https://iop-odi-content.s3.amazonaws.com/static/Legal/Bulletins/Documents/2020-03.pdf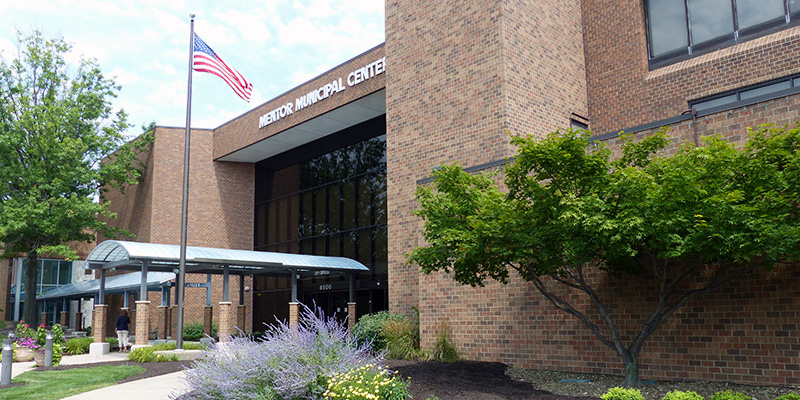 The Mentor Economic Assistance Corporation is a Certified Development Company (CDC), which is certified by the Small Business Administration (SBA) to administer the 504 Loan Program. The 504 Loan Program is an economic development tool that provides small businesses with long-term, fixed rate, subordinate mortgage financing and acquisition and/or renovation of capital assets including land, buildings, and equipment. Virtually all types of
for-profit small businesses are eligible for this program.
MEACO is committed to enhancing the economic development of the City of Mentor through helping small business owners structure financing for fixed asset purchases (land, building, machinery and equipment) under the SBA 504 Loan Program. The primary benefits of the program are longer loan terms, fixed interest rates, and lower down payment requirements.
MEACO may assist a small business concern (SBC) to obtain long-term fixed rate financing for the purchase of land and/or existing building, new construction, modernization, or conversion of its facility and/or purchase of new machinery or equipment. SBA 504 funds may not be used for working capital or debt refinancing.